What to Expect For Your Child's First Visit
A child's first visit to a dental hygiene clinic can be a daunting experience; our Bella Vista dentist at Oralux Dental, is specially trained in ensuring that children feel as comfortable as possible.
For your child's first visit, we have magic dental chair rides and age-appropriate dental toys, guaranteed to bring smiles to our youngest patients. Our hygienist will explain everything that is happening during examinations and cleaning. Your child will sit in a big, comfy chair, with a little sink next to it with a paper cup that your child can use to rinse their mouth during a cleaning.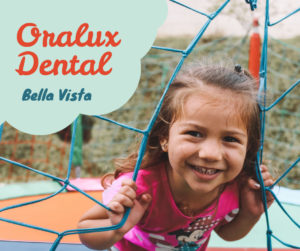 During examinations, your child will be awake and the parent may be asked to hold their child during the exam. Your child's existing teeth will be checked for decay and the gums and jaw will be looked at for any potential issues.
Topics Explained To the Parent during a Child's Dental Visit
At our Bella Vista dentistry clinic, we want families to be fully informed about their child's dental requirements. Some of the topics we will discuss with you, include:
Teething
Developmental milestones
Healthy nutrition
Healthy dental hygiene habits for your child's teeth and gums
Dental Cleaning For Your Child
The dentist or hygienist, will cover their mouth and nose with a mask, eye glasses will be worn and gloves. This is to prevent any germs being passed on to your child. Before a cleaning is carried out, the hygienist will examine your child's teeth and gums to make sure that they are healthy.
The hygienist will use a tiny mirror to be able to see the teeth clearly and will proceed to scrape off plaque from every tooth. A squirter tube is used to suck up saliva, this is done during cleaning.
Your child's teeth will be brushed thoroughly, flossed and fluoride varnish will be applied to prevent decay.
After the cleaning, the hygienist will inform you on the best way to brush and floss your child's teeth at home.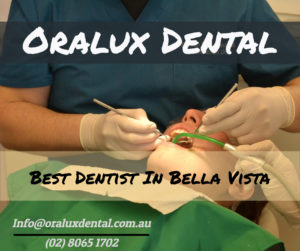 When a Child Should Be Brought To Their First Dental Appointment
It is widely recommended, that a child be brought to their first dental appointment, at the age of one or within six months of their first tooth appearing.
But before any teeth emerge, we do advise parents to clean their baby's gums right from birth. You can do this after each feed, it is best to use a clean wash cloth and to do it gently, as the babies gums are comprised of very thin skin tissue.
How Often Should Children Visit a Dental Hygiene Clinic?
Most dentists and hygienists like children to visit every six months, this is in order to establish a good relationship between the dentist and the child. At Bella Vista dental clinic, it is important to us that our child patients feel comfortable coming to our clinic and confident with the dental care we provide.
Make Your Child's Dental Hygienic Appointment Today
We hope to see you and your family soon at Oralux Dental, Bella Vista Clinic. Here's to excellent dental health!